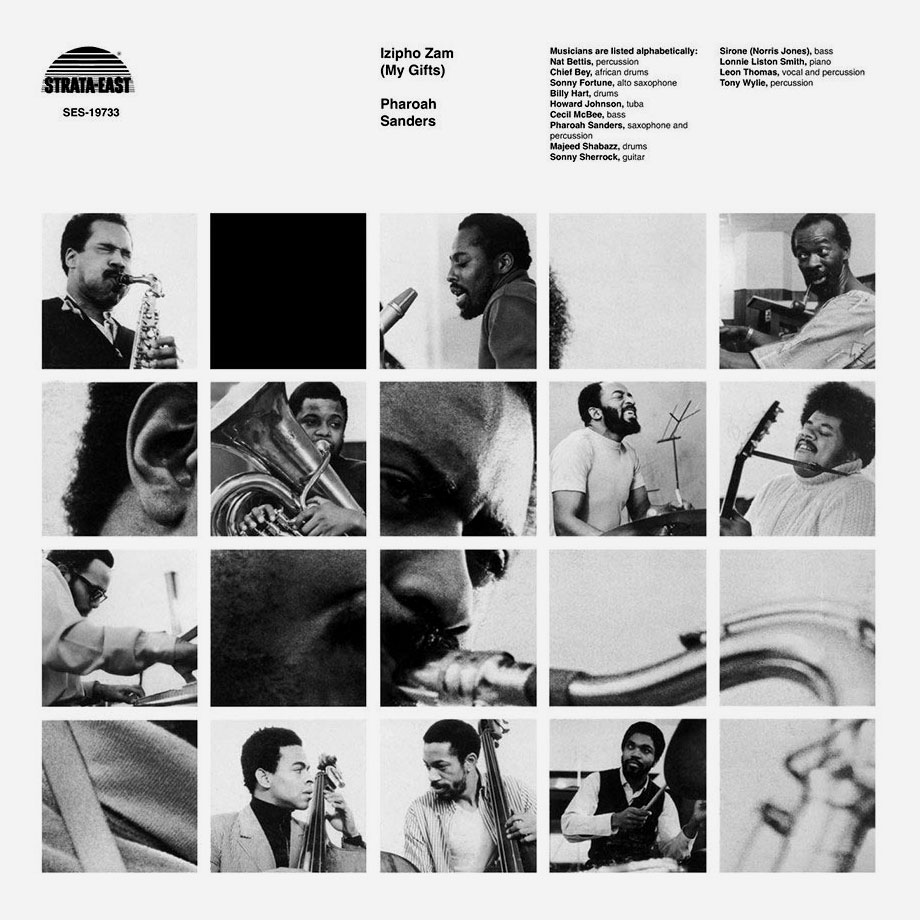 Two years after the death of his mentor and boss John Coltrane and shortly before signing his own contract with Impulse!, Pharoah Sanders finally managed to release an album as a leader outside the Impulse! family. Sanders proved with a cast of no less than 13 musicians that his time with Coltrane and his debut "Tauhid" with Impulse! were no coincidences.
Although he was hated by many of the jazz musicians of that time – and even more by jazz critics who thought Coltrane was musically lost when he put together the last quintet – Sanders followed his own path to Far Eastern music and sometimes completely beyond the boundaries of what one could call jazz. Nevertheless, "Izipho Zam" is a wonderful session, full of the power of his vision and the deeply felt soul that has shaped every Sanders recording ever since.
Guests include Sonny Sharrock, Lonnie Liston Smith, Chief Bey, Cecil McBee, Sirone, Sonny Fortune, Billy Hart, Howard Johnson and others. The set begins with a beautiful soul melody in "Prince Of Peace", in which Leon Thomas plays out his trademarks, yodels and languishing whining, while Smith, McBee and Hart support him and Sanders fills the gaps.
Next is "Balance", the first horn number in the set, with the African drums, modal horn section and Sanders' microtonal exploration of sound polarity in contrast to Johnson's tuba, with the rhythm section joining him as Sharrock and Smith swap bass lines and Sanders transforms the action into a Latin American dance from outer space – simply amazing.
Finally, the band members – all of them – begin a slow tonal exploration on the 28-minute title track, a structured stroll into the abyss of dissonance and harmonic integration, with Thomas as the bridge over which all sounds must travel on their way to the ensemble. From here, percussion, bells, whistles and Sharrock's strong guitar chords provide a rhythm to the beat of the sound figure until the horns join in after about 12 minutes.
They move slowly at first and gather strength until they really open after 20 minutes, the last eight minutes all play completely free, an endurance ride for the listener, because in the remaining four minutes Sanders leads the band into a wonderful lyrical excursion, which unites all different elements in his and our world and makes this track – and his album – an exciting, indispensable jazz experience.