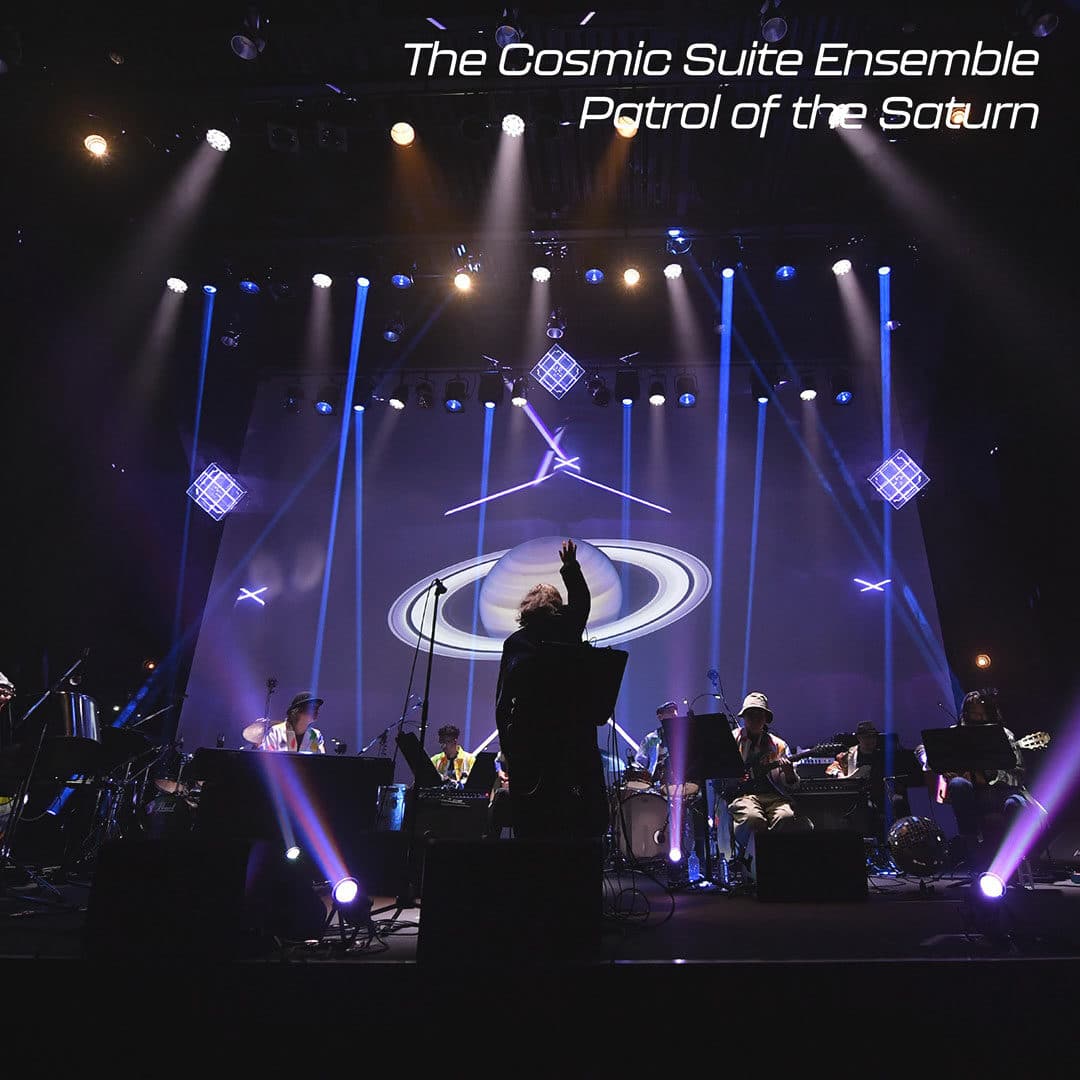 One can only watch in disbelief, this unstoppable creative cosmic explosion happening recently for the prolific Japanese producer, Yasushi Ide at the moment! Savoring the inclusion of his version of Bill Wither's, Ain't No Sunshine in the awe-inspiring Don Letts' curated reggae covers compilation, Version Excursion just released out of Late Night Tales and still in cruise control through the galaxy but in full steam ahead mode, his Cosmic Suite Ensemble releases their first live album, Space Jam on vinyl and CD!
Earlier in the year in May 20th, in the midst of another wave of Covid infections occurring in Japan, also after several postponements as well, against all odds, Yasushi finally assembled this 11 piece Cosmic Suite Ensemble and held a truly astonishing and inspiring concert at Kanda Square Hall, Tokyo. His crack team of Japan's top notch musicians, a star-studded bunch individually renowned as either a solo artist or active as a member of an established group, comes together with Yasushi Ide at the helm and performs in its entirety his magnum opus, Cosmic Suite. This piece released last year, notably received the following accolade from The Vinyl Factory, in their news column piece, "New albums to look out for in June 2021" which stated, "A 35-minute jam cut into two performances, Yasushi Ide's Cosmic Suite incorporates house, techno, jazz, reggae and dub into its sonic melange."
Masterfully orchestrated by Yasushi himself, his group manages to pull off the unimaginable and performs Cosmic Suite totally live! What a depth defying feat! A total free for all, improv and chaos amalgamation, fueling a magical musical odyssey through many corners and dimensions of the universe!
This album also includes, an incredibly dope cover of a very obscure, only performed live but never recorded, Yann Tomita piece called Patrol Of The Saturn. The enigmatic Yann Tomita might still be Japan's best kept secret but he is also a mentor of Yasushi and for this cover, he truly pays respect to his master's original piece but he also adds to it, some very heavy twin drum breaks played by the two drummers, Yukari Uehara and Kyoichi Shiino, layered with some dope steel pan madness by Genichi Tamura, then this piece picks up steam with a bit of nifty improvisational playing by the trumpet of Wataru Oyama, Kazuma Fujimoto (g) and Haruhisa Horie (Rhodes), and the whole band propels us into a dope sonic world of a mesmerizing dub attitude and slo-mo cosmic jazz funk vibes. Get set to orbit Saturn with this spaced out, funk-a-delic dub frenzy!